TREASURE HUNT FOR CHILDREN AROUND BROOMHILL! 
Download it here! TREASURE HUNT FOR CHILDREN
GET INTO THE FESTIVAL SPIRIT – DECORATE A TREE!    
This year we want to get everyone outdoors – so if you decorate a tree in your garden ( or even a potted plant in your window)  there will be plenty of passers-by to enjoy it.
Below is a simple recipe for making your own decorations –  why not send us a picture and we'll put it on the Festival website. Send your photos to paula@buzzsheffield.co.uk (in JPEG format).
A BASIC SALT DOUGH FOR DECORATIONS    
2 cups flour
1 cup salt
1 cup  warm water
Mix flour and salt.  Add the water and mix it up.  Knead the dough until it has a texture like Play-dough, and it's ready to roll.
Roll it till about as thick as a 50p piece.
Cut out with cookie cutters and punch a hole in each one  to hang your decoration ( a drinking straw is about the right size for this).
EITHER lay the shapes on a  tray lined with baking parchment and bake for about an hour at about Gas Mark 2.
OR leave them for several days to dry out on their own.
Paint them ( acrylics are best) or you can use scraps of paper or material to decorate.  If you want them to last, give them a coat of Mod Podge or similar.
Thread some ribbon or string through the hole and hang on your tree.
CHILDREN'S ART COMPETITION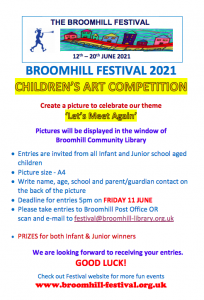 FESTIVAL CROSSWORDS!