DANUTA KOT'S MYSTERY WRITING COMPETITION
Many of Danuta Kot's popular thrillers are set in Yorkshire – including nearby Sheffield landmarks such as the Arts Tower.  We hope that she will be able to talk about her work at the next Festival. For now, we are proud to launch Danuta's own short story competition.
Danuta's's offering a chance to write your own mystery story. First prize, £15.00 book token and a signed copy of Life Ruins; second prize, a £10.00 book token.
 Write a short story of between 800 – 1200 words starting with the line 'If the weather had been better that last Tuesday in September, none of this would have happened.'
The story must be centred around a mystery. It can be any kind of mystery, and at by the end of the story, there must be a solution, or the possibility of a solution to the mystery. 
Entries should  be electronic and sent to danuta@danutareah.co.uk whether as a Word manuscript or a PDF by 19th June. Please include a cover for your story with the title plus a pseudonym. 
We suggest that each entrant should donate £5 to ASSIST (go to https://www.assistsheffield.org.uk and click 'Donate')
Winners to be announced on 21 June  – at the Broomhill Festival Lunch, if possible – and published on the website.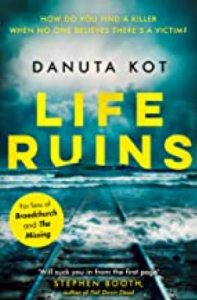 LIFE RUINS is currently out in paperback from Simon & Schuster. 'One crime thriller not to be missed'. 
BROOMHILL COMMUNITY LIBRARY FESTIVAL COMPETITION